10. Call a Cleaning Company
Stainless steel, in theory, is very much resilient to rust, heat, and chemicals. Due to these properties, they look great and are very popular in modern kitchens for a number of different reasons. But there is one downside to having stainless steel appliances and that is that some day-to-day materials can affect them and look dirty after touching them. Hard water marks, contamination due to dirt, fingerprint marks, etc., are some just to name a few.
Our team at Maid 4 Cleaning are experts in cleaning home appliances, including stainless steel fridges, stoves, and sinks. Contact us today and we will be sure to have your stainless steel appliances looking brand new again.
Follow the steps below to help you clean your stainless steel products:
1. Identify the direction of the grain
Yes, you read it right, like wood, stainless steel also has grains. You have to determine the direction of grains on various pieces of the appliance. Swiping in the direction of grain will ensure that you are removing every piece of dirt embedded deep within grains.
2. Choose your cleaning products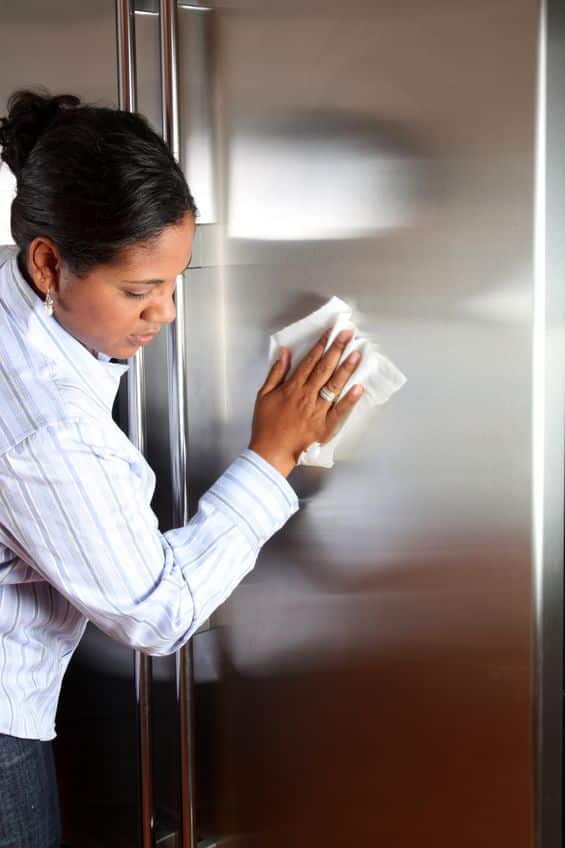 Always go for 
homemade products
 like olive or lemon oil, or very mild cleaning agents. To wipe the products use a microfiber cloth, one of the sides is designed to clean and the other to polish, leaving very little marks behind.
Apply a little bit of cleaning agent along with some warm water on your rag. Now as explained in Step 1, wipe along the grains gently. If required, more than once, to remove stubborn stains. When done wiping dry the appliance with a dry cloth to avoid getting any water marks.
4. Polishing your appliance
This is an optional step to regain shine of steel and increase the durability. Again, you have to choose a mild polishing agent. Baby oil is best suited for this. Follow the same principle to swipe along grains so that oil enters the pores and seeps in deep so that dirt can't get in.
Along with these basic steps, the method to clean different products can vary:
Stainless Steel Kitchen Appliances and Cutlery:
Scrub the surface with a piece cloth to remove any residue of food or oil. If the food is stuck, you can use any non-scratch scrubber such as nylon pads. Use a few drop of mild dishwasher soap and clean the surface gently. To polish it you can use olive oil or lemon oil.
​Toasters & Grillers
Toaster and grills have a lot of stuck-on food on them. Also, they have places which are hard to reach so you can let any detergent residue stay there. So the use of vinegar is suited for cleaning them. Follow same basic procedures but instead of using dishwasher soap, use vinegar. For polishing, you can use olive oil.
Stainless Steel Sink
Contrary to popular belief, using abrasive cleaning agent on the sink is not justified. You can use baking soda to clean sinks. Sprinkle two tablespoon of-+ baking soda in the sink and spread it with a damp cloth. Spray vinegar on soda and wait for 10 minutes for them to react and make foam. Rinse the sink after using a soft brush to clean hard to reach areas.
Cooking Utensils
For general cleaning, you can use dishwater. But if there is food burnt or stuck you can use baking soda. Boil about 2 inches of water and add two tablespoon salt along with one tablespoon of baking soda. Let it simmer for 30mins. Scrap with wooden spatula to remove stuck and burnt food
CONTACT MAID4CLEANING FOR STAINLESS STEEL CLEANING!
Stainless Steel is a reliable and durable but it must be cleaned daily to maintain its look. With these helpful tips, you can make your stainless steel shines for years. Follow our steps above to get your kitchen appliances looking brand new again, or give us a call and we will be happy to do that for you. Our 
home cleaning
 and 
office cleaning
 services are guaranteed to get your appliances looking new again.