Do you have mold growing somewhere in your home and don't know how to get rid of it? It may surprise you that in addition to killing more than 99.9% of germs, Lysol is a very effective killer of mold and mildew.
Firstly, we've all experienced having some level of mold in our homes. It's not because you're "dirty". In fact, you're exposed to mold every day whether it's in your home or not.
Mold is a type of fungus that thrives on moisture and travels through the air. Mold spores can simply travel through an open window in your home and land on a moist surface and start growing.  If you have a mold allergy, you can get sick the more you breathe in the spores, leaving you coughing, itching your eyes, and restricting your airways.
Mildew is another type of fungus that's often mistaken as mold since they look very similar. Mold and mildew typically appear black, green or blue in colour. Mildew can also bring on a set of ailments including allergic reactions and trouble breathing. This is why it's important to clean any room right away when you notice signs of mold and mildew.
As soon as you find black mold in your room, whether it be the kitchen, bathroom, basement, etc., start cleaning, even if it's just a tiny spot to keep it from spreading further. But before you start the cleaning process, but on some rubber gloves! You'll also want to purchase a bottle of Borox. It can be found down most laundry aisles. It's an alkaline mineral salt that is safe to inhale, but it can cause skin irritation if too much lands on you.
Next, start by mixing the Borax with a gallon of water. Use a scrubbing brush to dip in the solution and start scrubbing away the black mold. Don't try to wipe away anything afterwards as the Borax will help prevent the mold from returning.
If you have hydrogen peroxide handy, you could also use it as a black mold cleaner. Put it in a spray bottle, spray the mold, and let it sit for approximately 20 minutes. Use a clean cloth to wipe the area down after. This should work on most surfaces like bathroom tiles, appliances, floors and walls. It's non-toxic and safe to inhale, but make sure any pets don't get curious and lick the area as it's not safe to ingest and can cause skin irritation.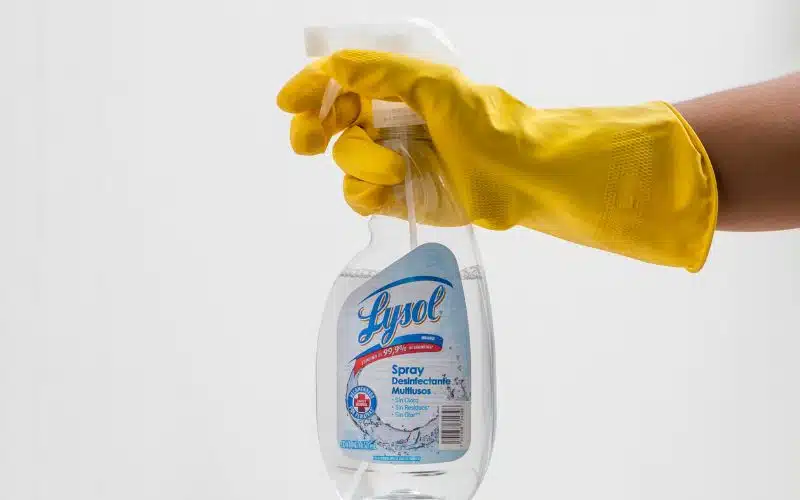 How To Kill Mold With Lysol
Lysol products are definitely one of the most popular cleaning products around, coming in spray bottles, laundry sanitizer, wipes, and more. The products' main ingredients include hydrogen peroxide, bleach, isopropyl alcohol, and benzalkonium chloride, a salt compound commonly found in eye, ear or nasal drops. It can effectively kill up to 99.99% of all bacteria in your home, such as mold and mildew.
The best way to use Lysol to kill mold is by spraying the affected area until it's soaked and let it sit for up to 10 minutes. Scrub the area after with a clean brush or magic eraser sponge and the mold should start coming off. Rinse the area off with a damp cloth and let it completely dry.
You may have to repeat these steps if there are some persistent areas, but make sure it's dried before repeating. You should keep gloves on during this process too as Lysol can irritate the skin and eyes. In order to keep your eyes completely safe, wear goggles or safety glasses while scrubbing.