Moving into a new house or apartment can be an exciting time for a fresh start, but also extremely busy. With all the packing and moving tasks on your to-do list, cleaning the old house is often the last thing on your list on moving day. If you're planning a move soon, here's a move out cleaning guide that you can use to ensure the place is left in excellent condition so that you get your security deposit back.
What's Included In A Move Out Cleaning Checklist?
Depending on your lease or purchase agreement, you may be required to leave the unit in a certain condition. A good point of reference that you can check before starting your cleaning job is the lease agreement. These documents usually outline what the tenant is required to do before leaving the unit. Once you've checked your agreement and found the cleaning requirements, you can create your moving out cleaning checklist and start scrubbing! Another thing to consider is how you want to tackle the house. Organizing your moving out cleaning list in order, from top to bottom, will help you clean efficiently and not bring more dirt or mess in throughout the day. As well, this method is less time consuming and may bring you less stress than other strategies.
Clear Out Personal Property and Vacuum
One of the first things that needs to be done when you start a stress free move cleaning checklist is removing all your belongings from the house and loading them into a moving truck provided by a moving company. This is often the most tiresome part of any moving experience, but it needs to be done before you can complete your cleaning checklist for moving out. Basically, the apartment or house needs to be completely empty except for the appliances, furniture, or items that were already there. For any unwanted items, either donate them, sell them, throw them out, or leave them at the side of the road for neighbours to pick up. Once all your personal items are cleared out, you will want to start off your cleaning tasks by vacuuming all the rooms. This includes the stairs, corners, window sills, closets, and other hard to reach areas.
Dust, Wipe, and Scrub Surfaces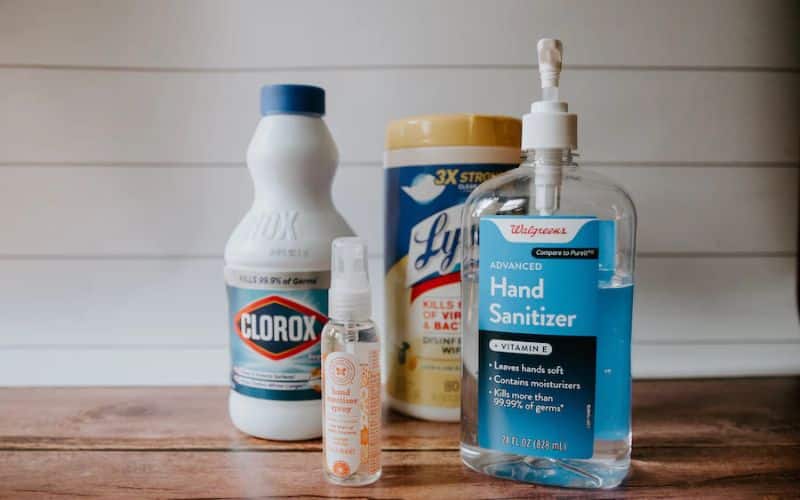 The next task on your move out cleaning list is to dust, wipe, and scrub down the surfaces. This is where elbow grease comes into play. You will want to clean all the floors, walls, doors, shelves, and other surfaces in order to ensure everything is properly cleaned. You can use a variety of cleaning supplies depending on the material or surface you are cleaning. An all-purpose cleaner with paper towels or some white vinegar can go a long way! Some areas you'll give a deep clean to include the bathroom, kitchen, cabinets, closets, and the laundry room. Other smaller areas that should be scrubbed in your deep cleaning list include light switches, light fixtures, ceiling fans, toilet seats, exhaust fans, window tracks, garbage disposal, and door frames. As well, if the appliances are staying in the former home and not moving to the new home, you will want to ensure that you wipe clean those surfaces. Ensuring that everything is completely cleaned will prevent mold growth after you move out. It's easy to forget about different areas, so creating your cleaning move out checklist with specific areas to remember will help with this.
Wall and Door Maintenance
Before moving to your new place, your next task on your move out cleaning checklist will be to ensure that any holes, scratches, or markings are removed from your doors and walls. If you've made any damage to the apartment or house, it is often your responsibility to either repair it yourself or pay for the repair. When it comes to walls and door frames, most things can be fixed with some spackle, sandpaper, and paint. If the damage is more severe, you may want to hire a professional to fix it. For glass doors with cracks or chips, you should consider replacing the door completely.
After the majority of your house cleaning is finished, it's important to do a final walk through to ensure that you did not miss anything. As you do your walk through, bring along some cleaning tools so you can wipe any dust or spots you missed right when you see it. Some people also find that mopping the floors once you have finished packing will help keep a clean space after you move out.
If you're planning to move out and the cleaning process sounds like a headache, consider hiring a professional cleaning service like Maid 4 Cleaning Inc. to get the place clean. Our team of professional cleaners are ready to tackle your cleaning list for moving out so you don't have to worry about it. We offer move out cleaning services and regular
residential
house cleaning all around Mississauga. Contact us today so our move out cleaners can get started on your Move Out Cleaning Checklist.