Moving is an exciting, but emotional and stressful occasion. There is a lot to do, which is why many people hire a moving company. However, there are many benefits to hiring a cleaning company, too. You can hire a move-in/move-out service, tailored to your needs, to get your place thoroughly cleaned on the day of the big move.
What Is a Move-In or Move-Out Cleaning Service?

A move-in/move-out cleaning service offers more comprehensive and thorough cleaning service than on a standard visit. You can get it customized, but in general, cleaning companies will do a full clean of all surfaces, including floors, countertops, shelving, windowsills, and more. Floors will be mopped or vacuumed. Light fixtures, ceiling fans, cabinets, and other fixtures will be cleaned, too, as well as vents and baseboards. Ovens, fridges, and other such items can be included in the cleaning services so everything starts off sanitized. All rooms and areas will be cleaned, including bedrooms, bathrooms, hallways, the kitchen, and other spaces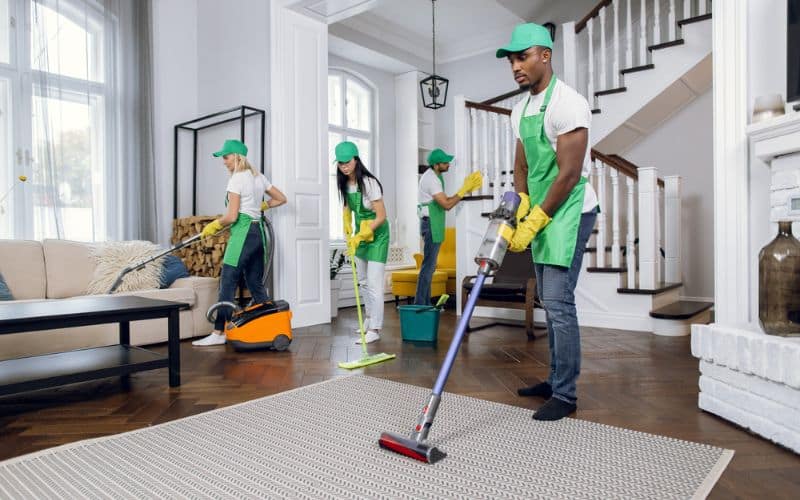 What Can a Professional Cleaning Service Do?
Hiring professional cleaners can make your move and start in your new house much better.
1. Save Time and Effort
A move is stressful and time-consuming enough already.
Having to then clean your new home is just one more job on your to do list. If you instead get a professional cleaning service, it is stress-reducing, while getting your home sparkling clean for a fresh start and giving you more time to get settled.
The moving process stirs up a lot of dust and dirt, and your belongings can get dirty outside or in the moving truck on moving day, so everything will need even more cleaning than usual.
Expert cleaners can handle all the hard and grimy work for you. Because they have the experience and follow a cleaning schedule, they can get the job done in a lot less time than it would take you. In addition, you have more time to do other things, or just relax in your new surroundings!
2. Get Your New Home Clean and Hygienic with Deep Cleaning Professional cleaners will perform a more thorough cleaning, to sanitize fully, even in hard to reach places.
They have the expertise to do a professional job, for better results. By following a cleaning schedule, the cleaners are more effective in the cleaning, so no areas get missed, and everything is fully sanitized.
A deep clean will ensure it is hygienic, no matter what happened in your new home before you bought it. Enjoy the confidence of knowing you are coming back to a completely healthy and clean home.
3. Benefit From Special Tools, Equipment, and Products
A professional cleaner will have special equipment tools and cleaning supplies for better results. Industrial strength vacuums, stain removers, and other tools of the trade help the professional cleaning service offer the best results. Their experience helps, too, since they know just what to use and when.
With the right products, equipment, and expertise, they can handle tougher or trickier jobs, including eliminating odours or pet hair.
4. Get Your New Home Set Up Right
If you don't start off really clean, you could be playing catch up for a long time, as dust can just resettle again in different places, and grime and germs can get established. You will need to clean again sooner, and spend more time having to clean in the long run, and not get the same results.
5 Enjoy Cleaner Air
A professional cleaning service also has the right tools to reduce airborne pollutants. Dust, dirt, and other factors impacting air quality can mean your new place may affect the health of your family. However, with a good clean that helps reduce these, you can enjoy a healthier home. Hiring professionals will also help if you have allergies.
They know how to clean to reduce dust mites and other allergens, which can be especially helpful if you are moving into a place that used to have a pet or other source of allergens.
6. Impress Your Guests
Host guests sooner, and with more confidence, in your new home. Whether you use a professional cleaning service to get you ready for a housewarming, or just to be ready whenever people start dropping in, you can be sure everything is company-ready.
7. Embrace a Fresh Start With Deep Cleaning Services
Sometimes, having to sweat over cleaning your new home, in addition to all of the hassle of moving, can make you feel overwhelmed and tired of your home before you have even really lived in it. Instead, feel like you are starting off on the right foot, and be able to get on with life. Simply enjoy your new house!
Maid 4 Cleaning Inc. is a professional cleaning company you can depend on. We have years of experience providing exceptional professional cleaning services in Mississauga.