Maintaining a clean and hygienic work environment is crucial for any business. However, tackling the routine cleaning task alone can be overwhelming and time-consuming. This is where hiring a professional commercial cleaning service comes into play. In this article, we will explore the key aspects and expectations associated with hiring a commercial cleaning service. From understanding your commercial space and specific cleaning needs to selecting a reputable company and ensuring professionalism and accountability, we will provide a comprehensive guide to help you make informed decisions and create a pristine workplace for your employees and customers.
Advantages of Green Cleaning Services
Top notch cleaning services offer numerous benefits for businesses. They provide a high standard of cleanliness, saving time and effort. Professional cleaners use specialized equipment and expertise to tackle challenging office cleaning tasks effectively with environmentally friendly cleaning products. Additionally, outsourcing cleaning responsibilities to office cleaners ensures a healthier and more productive work environment, leaving businesses free to focus on their core operations.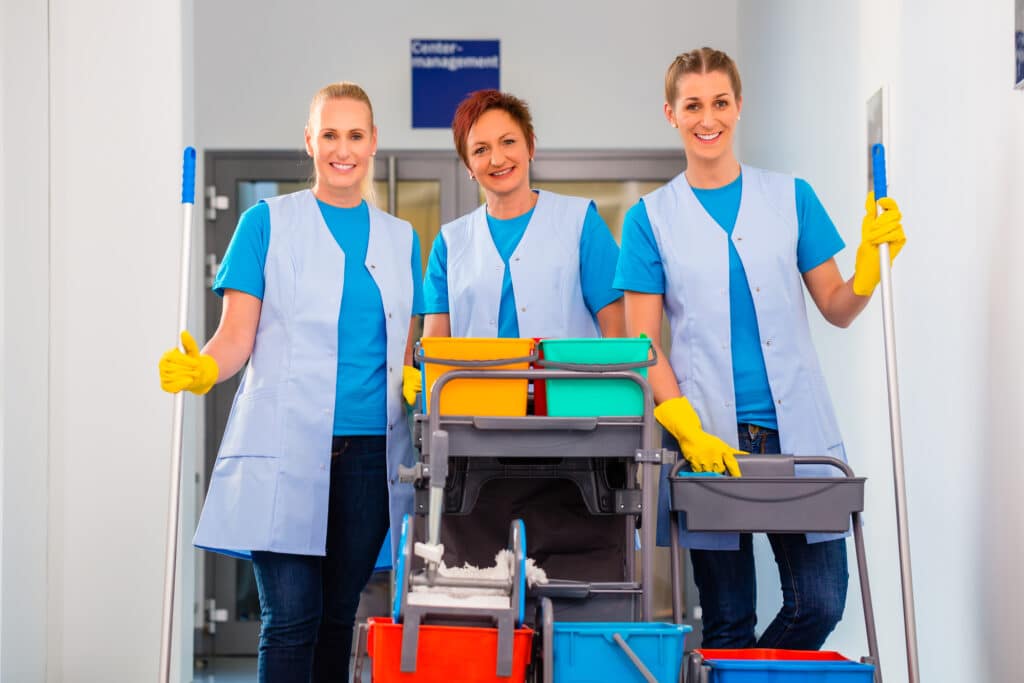 What Services Do Commercial Cleaners Offer?
Commercial cleaning companies provide a wide range of services tailored to meet the cleaning needs of businesses. These services typically include dusting, vacuuming, mopping, window cleaning, restroom sanitization, and trash removal. They may also offer specialized services like carpet cleaning, floor stripping and waxing, upholstery cleaning, and post-construction cleanup. Here are a few of the major common green cleaning services:
Window cleaning is an essential service provided by commercial cleaning companies. Skilled professionals utilize the right tools, techniques, and cleaning agents to ensure streak-free and spotless windows. This service enhances the appearance of a building, allows natural light to flood in, and creates a pleasant and inviting atmosphere for employees and visitors to office buildings alike.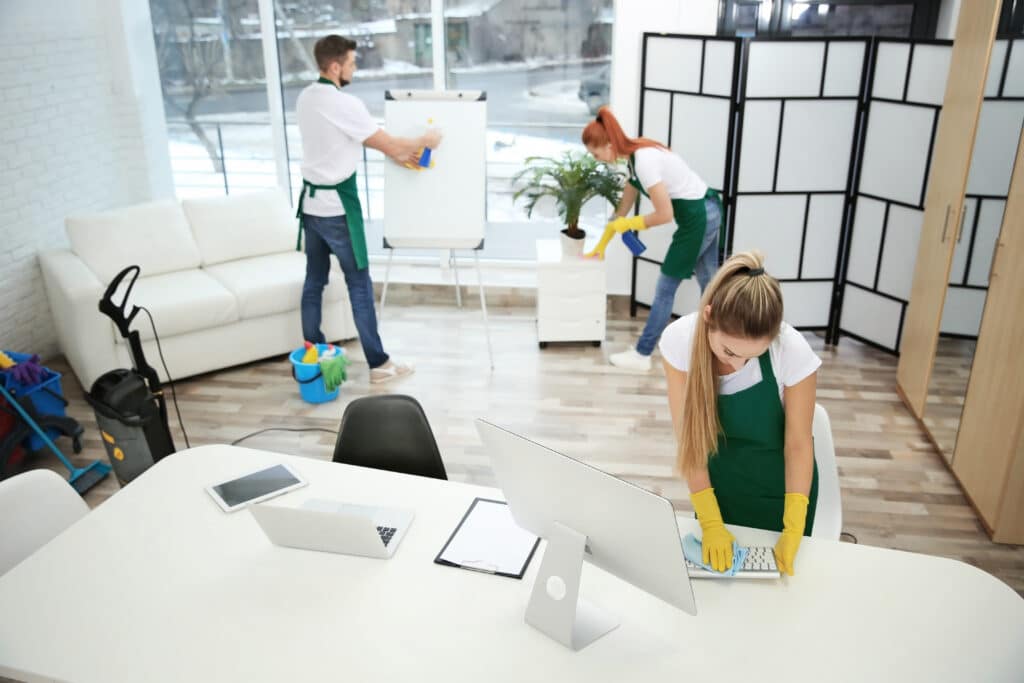 Janitorial services for office buildings encompass a broad range of cleaning tasks performed by commercial cleaning companies. These services include daily or periodic cleaning of common areas, restrooms facilities, break rooms, and medical office spaces. Janitorial services involve tasks such as office cleaning, dusting, sweeping, mopping, trash removal, and maintaining cleanliness throughout public areas of the facility, ensuring a clean and organized working environment for employees and visitors.
Specialized Cleaning Services
In addition to general janitorial and window cleaning, commercial cleaning companies often offer a variety of specialized cleaning services. These may include carpet cleaning to remove deep-seated stains and odors, floor stripping and waxing for restoring and maintaining the shine of hard floors, floor restoration, upholstery cleaning to refresh furniture, and post-construction cleanup to remove debris and ensure a clean, safe environment. These specialized services cater to specific cleaning needs and provide comprehensive green cleaning solutions for businesses.
Researching and Selecting a Reputable Cleaning Company
When hiring a commercial cleaning service, it is crucial to research and select a reputable company to ensure high-quality service and reliable results. Start by seeking recommendations, reading online reviews, and checking references. Verify the company's licenses, insurance coverage, and certifications. Assess their experience, expertise, and range of services offered. Obtain detailed quotes, compare pricing structures, and carefully review service agreements before making a well-informed decision. Taking these steps will help you find a trusted cleaning partner for your business.
How Much Do Commercial Cleaning Services Cost?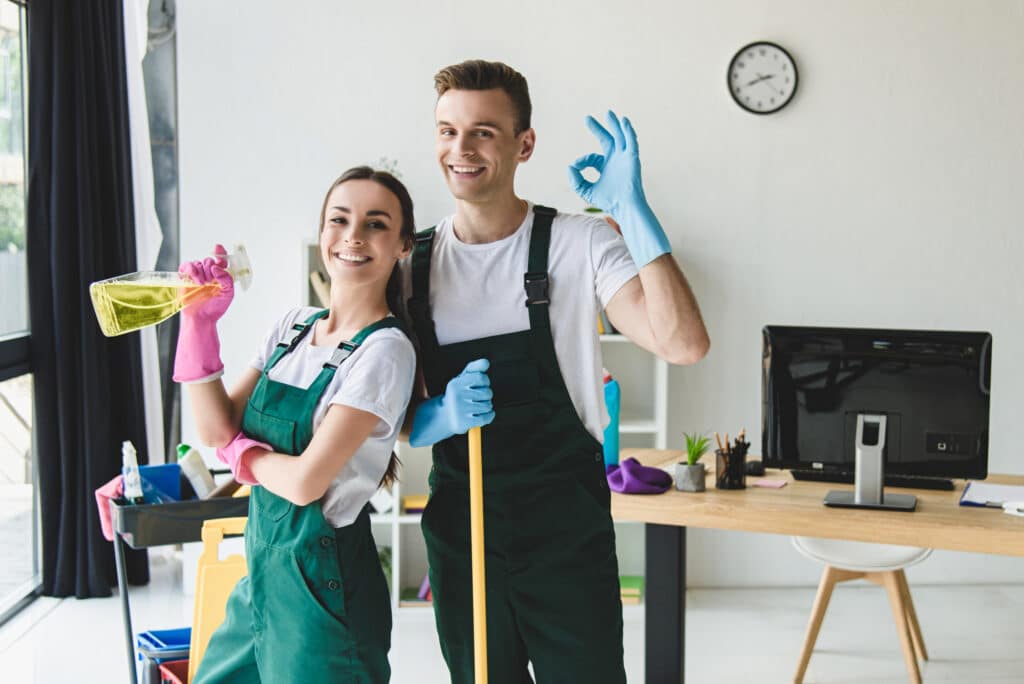 The cost of commercial cleaning services can vary depending on several factors. These include the size of the facility, the frequency of cleaning, the specific services required, and the location. Generally, commercial cleaning services are priced either on an hourly basis, with rates ranging from $25 to $50 per hour, or through customized pricing based on a detailed assessment of the commercial establishment and cleaning needs. It is advisable to obtain multiple quotes and consider the value provided by the cleaning company before finalizing a contract.
What Can I Expect From Commercial Cleaners?
When hiring commercial cleaners, you can expect a professional and reliable service that meets your specific cleaning needs. They will arrive at scheduled times, equipped with the necessary tools and supplies. Commercial cleaners will efficiently clean, and sanitize your premises to handle disinfection services, paying attention to detail and ensuring high-quality results. They will adhere to customized cleaning plans, communicate effectively, and provide accountability through regular inspections. Ultimately, you can expect a clean, safe, and inviting workplace environment for your employees and clients.
Communication and Accountability
Effective communication and accountability are essential aspects of a successful commercial cleaning service. A reputable commercial cleaning company will establish clear channels of communication, ensuring prompt responses to inquiries and addressing any concerns or issues that may arise. They will provide regular updates on cleaning progress and seek feedback from clients. Additionally, commercial cleaners will uphold a high level of accountability by conducting quality inspections, implementing feedback mechanisms, and taking prompt action to resolve any issues, ensuring client satisfaction and a transparent working relationship.